Eden Skin Care has designed the ultimate 'one-stop' skin care routine for you. Everything your skin needs in five easy steps. An effective an easy solution created by our skin experts.
EDEN 01, 02 & 03, are the daily essentials every skin needs to keep hydrated and rejuvenized 24h a day. EDEN 04 is the perfect ally on-the-go, keeping your skin fresh and glowing anywhere you are. EDEN 05 is a weekly treat, a 2-in-1 exfoliation and deep cleanse for your skin.
1 DAY CREAM
Smooth gently all over face and neck. Apply directly on clean skin or after 04 EDEN Face Mist for increased absorption.
High-performance moisturizer, effectively defends against the appearance of premature ageing signs. Refreshes skin with lasting hydration.
2 NIGHT CREAM
Apply after 03 EDEN Ageless Serum.
Smooth gently over face, neck and chest.
Advanced night repair with lavender and tea tree essential oils. Refreshingly lush & deeply hydrating. Helps skin detox from the visible effects that accumulate during the day. Wake up to a smoother, younger skin.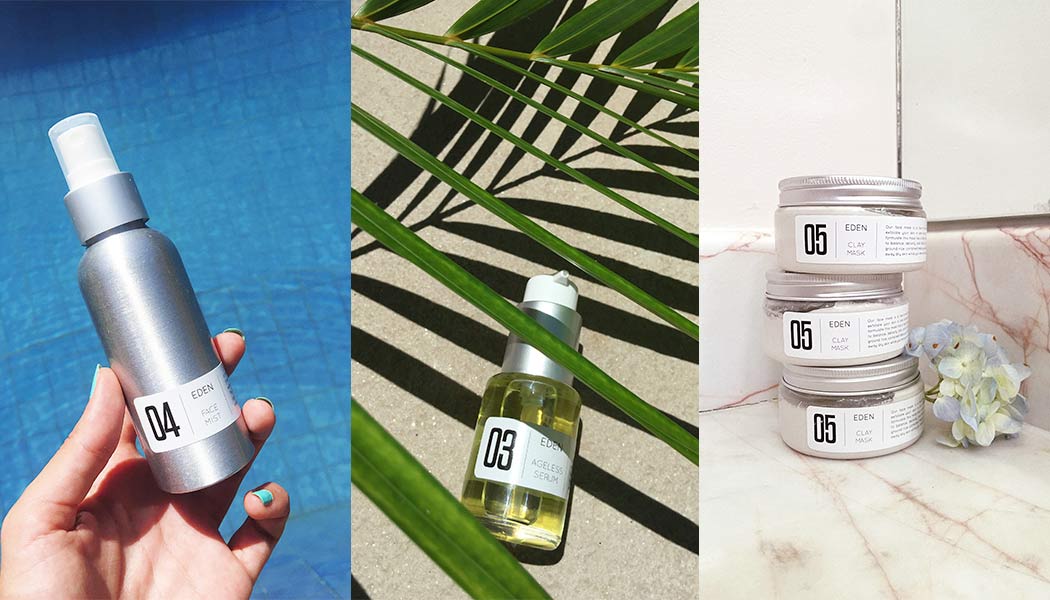 3 AGELESS SERUM
Apply on clean skin, paying particular attention to your deepest wrinkles. Finish with 02 EDEN Night Cream.
Packed with essential oils, this anti-ageing serum is our most effective wrinkle-fighting solution. Rejuvenate your skin and reduce the appearance of fine lines and wrinkles.
4 FACE MIST
After cleansing, give your skin a generous mist spray, then without patting dry, apply 01 EDEN day cream straight on top. Use anytime during the day.
A refreshing, hydrating mist to use at any time. Formulated with soothing chamomile extracts and anti-inflammatory lemongrass.
5 CLAY MASK
Smooth mask evenly over face. Leave on for 15 min then rinse off with warm water, gently massaging in circular motion as you go.
Detoxify and exfoliate your skin in 1 step. The high mineral clay detoxifies and clarifies skin complexion, while ground rice exfoliates and scrubs away dry skin.